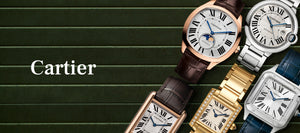 Cartier Watch Service Center
LA's Authorized Cartier Watch Service
45+ YEARS OF EXPERIENCE IN THE WATCH INDUSTRY

We are a team that consists of the most qualified and skilled watch professionals in Los Angeles, with more than 45 years of experience in the local and national watch market. Our team members have undergone various training, both in Switzerland and the US, with different watch brand companies, including Cartier watches. Time-Tec is a Cartier authorized service center Our Cartier trained watchmaker will provide a thorough inspection of your watch movement to find out if there are damaged or worn parts that needs to be replaced.


CLICK ON THE BUTTON BELOW TO DOWNLOAD AND PRINT THE SERVICE REQUEST FORM.
You can also use the electronic form below to easily submit your information directly to Time-Tec.
Time-Tec Watch Service Center
Cartier Watch Repair Service in LA
If you're searching for an trustworthy watch repair service provider in Los Angeles, CA, then look no further than our shop! We offer high-quality repair services for all types of watches, including vintage and modern models. Our team of specialists are highly skilled and experienced, so you can be confident that your beloved timepiece is in good hands. Additionally, we boast competitive rates and speedy turnaround times – meaning you won't have to wait long to get your favorite accessory back!
Get a Quote
Cartier Watch Repair
The epitome of excellence
At our store, we can service and repair any Cartier model you may have. Our watchmakers are highly skilled and have many years of experience. They will be able to take a look at your watch and give you an estimate for the repair. If you decide to move forward with the repair, they will get started right away and have your watch back to you in no time. You can rest assured knowing that your watch is in good hands and will be repaired to the highest standards. If you are ever in need of Cartier watch repair, please visit our store and we will be more than happy to help. Thank you for choosing us!
Get a Quote
Time-Tec Watch Service Center
Brands We Serve...