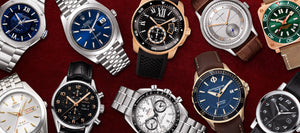 Time-Tec Watch Service Center
LA's Professional Watch Repair Service
We are a family-owned and operated full-service jeweler and professional watch repair store located in the heart of LA. TIme-Tec Watch Service Center are experts in repairing fine watches from world-renowned brands including:-
- ROLEX
- BREITLING
- PATEK PHILIPPE
- TAG HEUER
- TUDOR

and many other modern and vintage fine brands. We have been serving the CA area for many years. We offer the highest quality skill and craftsmanship, backed by years of experience, done in a workshop full of the latest tools and technology at a price that will make you happy. We guarantee that your watch or timepiece gets the VIP treatment, every time. Anything less…well, that's just not Time-Tec If you are looking for a watch repair service in LA, CA we are the first and only people you should go to. We treat each item as though it were our own with the utmost dedication, care and attention to detail.
Time-Tec
Our Mission to be the Best Watch Service in LA, CA
The Very Best in Watch Repair
Time-Tec watch repair service center of Los Angeles, CA, is recognized as one of the best places to repair a watch in CA, and is equipped to handle all phases of luxury watch repair, case and bracelet refinishing and restoration of both modern and vintage timepieces. We have 20+ years of watch repair experience and knowledge in the repair of fine, luxury watches as well as the more common brands.

Kevin has the tools and modern testing equipment to make sure your repair is done correctly. Our goal is to be the best watch repair in CA, and I am an expert in watch repairs of all major brands such as Tag Heuer, Hamilton, Breitling, Rolex, and more! We are the watch service center for all of New York City, including LA, Long Beach, Malibu, and Pasadena. Indeed, you can even mail in your watch to me for an estimate and subsequent repairs.
Get Instant Quote
Entrust your Watch to a Professional
Our extraordinary history at the top of our field, has provided our team with vast experience with all aspects of luxury watch care, maintenance, and collecting. Time-Tec is simply the ultimate destination for any passionate horologist.

Get a Quote
Expertise and Quality
Since every watch brand has its own specific requirements regarding the tools and methods used to repair and maintain their timepieces, it requires a highly specialized and trained service to handle your watch. We are certified in every brand that we service, including the following memberships and certifications:
- Certificate of completion for the Swatch Group Service Provider Training
- Member of the National Association of Watch and Clock Collectors
- Certificate of completion for the American Watchmakers-Clockmakers Institute
- A+ Rating from the Better Business Bureau We strictly follow each brand's standards, use only genuine manufacturer parts, and are committed to outstanding turnaround time.

Certified, and professional watch service center. Specializing in Rolex, Cartier, Omega, Tag Heuer and many more Swiss high grade brands. We are a leading LA-based, family-owned watch repair store in California with over 20 years of experience in watchmaking. Our world-renowned reputation, expertise, passion, and extraordinary service guarantee you the very best when you shop with us.
Get a Quote
Time-Tec Watch Service Center
Brands We Serve...
SERVICING & MAINTENANCE
- Battery Replacement
- Water Resistance Maintenance
- Ultrasonic Cleaning
- Sizing and Adjustment
WATCH REPAIR
- Watch De-magnetism
- Complete Overhaul Service
- Complete Overhaul Service
- Case & Bracelet Refinishing
URGENT DAMAGE REPAIR
- Watch De-magnetism
- Complete Overhaul Service
- Complete Overhaul Service
- Case & Bracelet Refinishing
FROM THE PEOPLE
Customer Reviews
The times I have needed watch service these guys came through for me. A little hard finding convenient parking. I need to better plan ahead. They changed a battery for me today. I'm hoping to have them service my other watch soon.
John Wick
This is a stand out watch center. I took my (somewhat) vintage rolex 16233 datejust for a service as this was a hand me down watch from my father. It wasn't serviced in decades for a 30 year old watch. There was also a gold piece missing on the end link, and Kevork was able to resolve that without issue. The watch was serviced and the test results were provided to show it's integrity, and the watch case and bracelet also were restored. It is now looking glorious like how it should back in the early 90s, and I am very happy with the service. He also helped me fit my other Rolex bracelet, all with a pleasant attitude. I'd paid cash for the service and received a 5% discount. I know this will be my go-to place for future watch service.
Natt Mintrasak
Simply the best place in the United States to have your watch serviced!!! Trust these guys 100%!!! Their work is incredible! My watches look brand new! took two Cartier Roadsters to them and was so happy with their work! You will be happy! Great Prices and fast turn around times! Will never go anywhere else.........
Scott Sandler